How to improve the aerodynamic performance of tubular tyres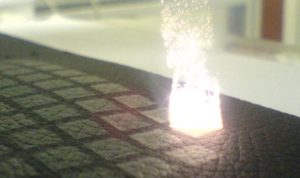 MAVIC, a sports equipment manufacturer known in the world of competitive cycling, called on IREPA LASER, an Institut Carnot MICA member, for its expertise in laser texturing. The project's original objective was to improve the aerodynamic performance of the sides of tubular tyres. With laser texturing, the new tubular tyres, which are tested in a wind tunnel, perform much better in competition cycling: with the full set of equipment (textured tubular tyre – wheel rim – wheel cover), 1 minute can be gained over a distance of 40 km at 50 km/hr.
Several professional cycling teams now use the famous MAVIC wheels. The new tubular tyre has achieved a number of satisfying victories: Fred Van Lierde, whose bike was fitted with textured tyres, won his first Abu Dhabi triathlon in March 2013 and took third place in the 2012 Ironman. The winning teams of the 2010 Tour de France and 2011 GIRO also used this equipment.