Reducing nosocomial infections, a genuine hazard in implant surgery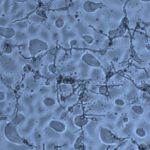 With the emergence of antimicrobial-resistant bacteria, nosocomial infections are multiplying in hospital environments. They also pose a serious risk with implant surgery. The development of new strategies to prevent these infections is therefore a top priority today.
The solution developed by MICA involves the use of a self-crosslinking gel functionalised with antimicrobial peptides. A hydrogel, formed by binding medical-grade alginate and Pluronic with antimicrobial peptides, demonstrates major antimicrobial properties vis-a-vis bacteria in the oral cavity. This non-toxic gel also possesses strong properties for adhesion to titanium and tissues, making it a useful filling and adhesive material around the implant. Its application to dental implants would help prevent peri-implantitis.
Antibacterial Peptide-Based Gel for Prevention of Medical Implanted-Device Infection, PLOS One (Research article PDF)
> See our other success stories